By Sam, a San Jose Peace & Justice Center Intern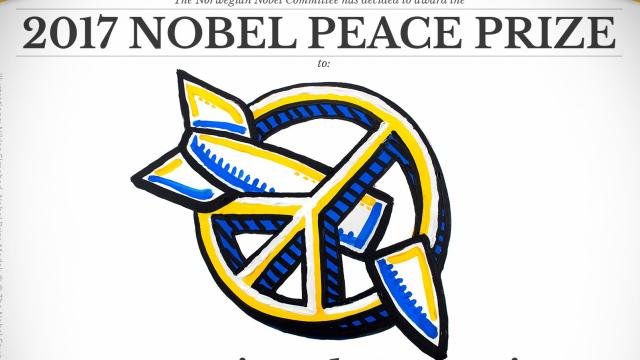 The International Campaign to Abolish Nuclear Weapons (ICAN) won the 2017 Nobel Peace Prize, commemorating their widespread involvement surrounding the Treaty on the Prohibition of Nuclear Weapons. This agreement is an incredible step towards disarmament; it clearly "outlaws the worst weapons of mass destruction and establishes a clear pathway to their total elimination." It was signed by 122 nations. The US, however, is unsurprisingly absent from the list.
ICAN is a coalition of various non-governmental organizations from over one hundred countries, all of which share the same goal of wiping out the threat of nuclear war across the globe. A recent press release by ICAN stated that "by harnessing the power of the people, we have worked to bring an end to the most destructive weapon ever created – the only weapon that poses an existential threat to all humanity." This is especially pertinent today, as Trump's rapid and irresponsible escalation of tension between the US and North Korea has once again brought the fear of nuclear war to the forefront of American consciousness. These threats of mass destructions and death should be wake up calls for people everywhere, especially those who believed the issue was now dormant.
This Nobel Prize is more than just a commendation of ICAN's work. It is a monumental recognition of the disarmament movement as a whole, an acknowledgement that the tireless activists who are fighting to the ban the bomb have not been fighting in vain.
The US has consistently refused to contribute to peace seeking treaties such as the Treaty on the Prohibition of Nuclear Weapons in the past, but under the current administration, the nation can no longer afford to ignore the looming threat of conflict. I urge you to contact the US U.N. ambassador and impress upon them the importance and urgency of this treaty (see link below). There is still time to ban the bomb, and while we must celebrate the victories of the Peace Prize and the agreement itself, we must also push forward in the fight towards complete disarmament.
Action items: